For Italian Pilot, I have made a Traslation:
RULEBOOK
Questo regolamento si basa sulla SATAC FC2 rulebook_v3 fatta da PVO 51 °.
1. Struttura
Partita al meglio dei 3 round : la prima squadra a vincere 2 round viene dichiarata vincitrice e avanza al turno successivo.
Eliminazione diretta , questo significa vincitore avanza al turno successivo, perdente va a casa. Gli accoppiamenti delle Squadre saranno basati sulla storia squadrone vs squadrone in MP, prestazioni recenti e classifiche anche dei singoli piloti nel ranking SA aria-aria.
Ogni partita deve essere volata coma una missione un 4vs4, Sweep Fighter 5vs5 o 6vs6. L'obiettivo di ogni partita è la supremazia aerea sopra una zona di combattimento del raggio di 148 km.
I Velivoli a disposizione di ogni squadra sono: F-15C, MiG-29S e Su-27S. Questi velivoli sono disponibili su entrambi i lati e possono essere miscelati.
Restrizione d'Arma: R-77 missile non ammessi su Su-27S, F15C non deve trasportare più di 6 missili AIM-120.
Un round è vinto se una squadra neutralizza tutti i velivoli avversari e riescono a portare almeno una delle proprie unità alla casa base. Neutralizzare significa distruggere o costringere il bandito fuori dalla zona di combattimento. Non riuscendo a rientrare alla base forzerà un pareggio e il round dovrà essere rigiocato.
Tutti i velivoli devono stare on station. Qualsiasi velivolo vicino al bordo della zona di combattimento sarà avvertito dal server che visualizzerà il seguente testo: "You are leaving the combat zone now, fly back immediately!". Non rientrare uscendo da questa bolla, attiverà il trigger missione che distruggerà l' unità. Per ciascun aeromobile, il punto intermedio WP1 è al centro della zona di combattimento del raggio di 148km/80nm; questo può essere utilizzato anche in combinazione con il sistema di navigazione per valutare e rimanere entro i confini della bolla di missione.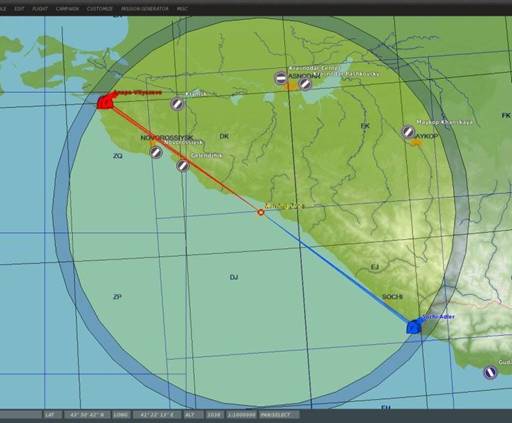 2. Squadre
Una squadra deve avere almeno 4 piloti; grandi squadre possono registrarsi con più di una squadra. I piloti non saranno in grado di cambiare squadra e dovrà attenersi al loro squadra iniziale. E 'importante avere i piloti di riserva, al fine di evitare la cancellazione nel caso che qualcuno non si presenti..
3. Regole server:
51 ° server dedicato PVO è il server ufficiale SATAC 2013.
La traccia del server deve essere sempre salvata. Questa è la traccia di riferimento che sarà utilizzato per la determinazione di risultati irrisolti delle partite.
Impostazioni del server deve essere impostato su Simulazione
MAP VIEW deve essere spento
EXTERNALS deve essere spento
PADLOCK deve essere spento
LABELS devono essere spento
MINI HUD deve essere spento
Niente armi illimitate, carburante illimitato o immortalità
Bird strike deve essere impostato a 0%
G-effect devono essere fissati a Simulation
network.cfg: allow_object_export = false
4. Regole del volo
I piloti hanno una sola vita per round.
I piloti hanno una sortita per round. Non ci sarà nessun riarmo o il rifornimento di carburante durante un round. I piloti devono lasciare il server subito dopo l'atterraggio.
Qualsiasi pilota di turno deve lasciare immediatamente il server. Una volta che il round è finito, tutti i piloti possono immettere nuovamente a volare al turno successivo.
Prima del decollo, ogni squadra deve effettuare la taxi, e l'alllineamento sulla pista e attendere. Una volta pronto, il team deve inviare in chat: [Squadron] Ready! Dopo che entrambe le squadre l'hanno dichiarato, il round inizia e ogni squadra deve decollare entro un minuto.
Se qualcuno si disconnette dal server, non può riconnettersi per quel round. Lag incidenti correlati o disconnessioni prima dell'annuncio Ready non è incluso in questa regola.
5. Lista di controllo Preflight:
Aggiornamento alla versione più recente di DCS World.
Disinstallare qualsiasi mod che potenzialmente potrebbero entrare in conflitto con il server Integrity Check.
Spegnere il Tacview, registrazione su off.
Dare priorità al Frame Rate più alta consistenza per tutta la durata della partita (Si consiglia di: passare a medio preimpostato - rimuovere i graffi sul canopy - di avere le luci spente ...)
Eseguire un Pulitura disco e Utilità di deframmentazione dischi
Riavviare il computer
Controllare la potenza del segnale del router, riavviare, se necessario, e informare gli altri utenti di non ripristinarlo.
Tenere la CPU e la memoria dedicata a DCS: non eseguire applicazioni non necessarie o browser in background.
Impostare le impostazioni di connessione per DCS su LAN
Registrazione e programmazione
Una squadra deve avere almeno 4 piloti. Grandi squadroni possono registrare più di una squadra. E 'importante avere i piloti di riserva, al fine di evitare la cancellazione in caso di non presentazione di uno dei piloti..
Si prega di compilare il modulo sottostante:
Nome Squadron:
Squadron Logo:
Squadron Leader di:
Gregari di listino:
Fighter Aircraft:
Motto ufficiale:
Nota Importante: Dal momento che questo è un evento basato sugli squadroni, non vogliamo che i lone-Wolf manchino alla festa. Se sei un lupo solitario e vorresti partecipare, è ancora possibile registrare e formare squadre di 'Mercenari' con altri piloti lupi solitari.
Round 1 partite in programma per:
Sabato 8 giugno alle 06:00 zulu tempo.
Hosting server: 51 ° server dedicato PVO.
Termine per l'iscrizione: 1 giugno.
Accoppiamenti e ordine di gioco saranno annunciati dopo la chiusura delle registrazioni.